About A Multitude of All Peoples
Adapted from a Conversation with Vince Bantu
Every Voice: What led you to write this book? What problem or issue(s) are you seeking to address?
Vince Bantu: It's the same issue that I try to address across my ministry—people seeing Christianity as a white, Western religion. It's not true, but the perception is very powerful. My aim is really evangelistic. I think this is the single greatest obstacle to the gospel in the world. The primary reason why non-Christians in the Majority World are not interested in Christianity is because they see it as white and Western and therefore as antithetical to their identity. It seems culturally foreign. So I wanted to highlight and elevate non-Western forms of the faith. The majority of the non-Western forms of Christianity that have arisen over the last few centuries have been the result of white, Western missionaries. So it's important to highlight the ancient and medieval forms of Christianity in Africa and Asia, which didn't come from Europe. In fact, some even preceded Christianity in Europe.
EV: What's the thesis of your book?
VB: The thesis is that Christianity has always been global. A lot of people talk about Christianity becoming global, but it's been global from the very beginning. My hope is that people will look back on the historical instances that I'm highlighting in the book and encourage contextualized expressions of Christianity, especially contextualized expressions that are freed up to be led by indigenous leaders. I'm opposed to churches being led primarily by people who are not local and indigenous. There's room for cross-cultural relationship and partnership, but there needs to be a shift from Westerners going and starting things in non-Western contexts to empowering indigenous people to develop contextual forms of Christianity.
EV: Who's your target audience, and what are you most hoping they hear from it?
VB: For me, the primary target audience is non-White non-Christians. My biggest hope is that they would read it and be open to Christianity as they are introduced to Christians who look like them from their native lands. A secondary audience is Christians from multiethnic backgrounds, who are interested in and passionate about Christianity not just being expressed in a white or hegemonic presence but who don't have a historical background to understand that Christianity has always been global. I think it's important for us to know our own history as Christians. And a final audience is white Christians who aren't yet on board with causes of racial justice and equity. My hope is that this book would help them become more open to it.
EV: Did you have any "aha" moments while writing the book?
VB: I was surprised to learn about a female Ethiopian saint named Walatta Petros in the 17th c., who resisted Portuguese colonialism. Wow, I had no idea! In some ways, this book is a memoir on how I got interested in this field of study, where there are very few people of color. It highlights the importance of indigenous leadership and contextualization and being able to see historically how consistently Christianity thrives in situations where it's freed up to be contextualized. It also reveals how Christianity often disappears when it doesn't have that freedom, and that's true across cultures and centuries.
EV: What was the most challenging part of the book to write?
VB: The section on Asia was the most challenging for me to write because I had the least amount of experience with it and don't work with the languages. I know the languages used in other areas: Syriac, Coptic, Ethiopic, Greek, and Latin. But the Asian material was more unfamiliar, so I had colleagues with more experience in that area look over it. But because I didn't have much background in it, it was also really interesting. I learned a lot.
EV: If your book was made into a movie, what actor/actress would play the lead role?
VB: I'd have to go with Will Smith. People have often told me that I remind them of him. And at one point, he was talking about playing King Tirhakah (see 2 Kings 19) in a movie, but it hasn't happened yet.
EV: What kind of seminary/church classes should assign your book?
VB: Church history I, Early/Medieval Church, Missiology, History of Church Missions, Christianity in Africa and/or Asia, Global Christianity, Christology
---
About Vince Bantu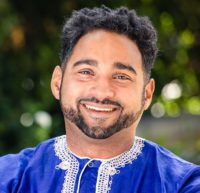 Vince Bantu (PhD, The Catholic University of America) is Assistant Professor of Church History and Black Church Studies at Fuller Theological Seminary.