About Engaging the Old Testament
A Conversation with Dominick Hernández
Every Voice: What led you to write this book?
EV: What problem or issue(s) are you seeking to address?
EV: Who's your target audience, and what are you most hoping they hear from it?
EV: Did you have any "aha" moments while writing the book?
EV: What was the most challenging part of the book to write?
EV: If your book was made into a movie, what actor/actress would play the lead role?
EV: What kind of seminary/church classes should assign your book?
---
About the Author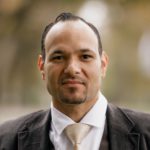 Dominick S. Hernández (PhD, Bar-Ilan University) is Associate Professor of Old Testament and Semitics at Talbot School of Theology, Biola University.